Kestrels 'becoming scarce' in some parts of Scotland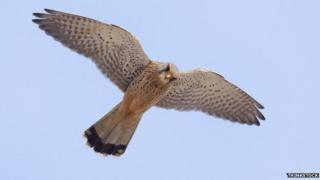 A bird of prey once common across Scotland is becoming scarce in some places, according to a new report.
Kestrels have been declining for a number of years and experts believe habitat loss and poisons used to control rodents could be to blame.
But The Raptors in Scotland report also showed signs of recovery for goshawks, sparrowhawks and buzzards.
Scottish Natural Heritage said the study is "the most complete statistical trends" yet for birds of prey.
It shows emerging trends in the numbers and breeding success for 13 species.
SNH said the report suggested mixed results with most species rising in numbers, but some falling.
Gordon Riddle, from the Scottish Raptor Study Group, said: "We're unsure exactly why kestrels have declined.
"Recent harsh winters may have led to a high mortality, but even before then kestrels were declining. It's likely that these changes are due to a combination of factors."
Ron Macdonald, SNH's director of policy and advice, said: "Some birds of prey are faring well - but our report also shows that we still have lots of work to do to make sure that all birds of prey flourish in Scotland."