Woman rescued after car goes into a river near Loch Ness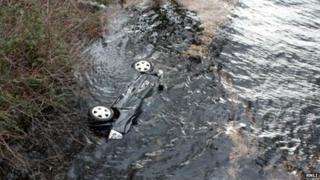 A woman was rescued from her car after it came off the A82 and went down an embankment into a river near Loch Ness.
The incident happened at about 20:00 on Sunday near Invermoriston.
Loch Ness lifeboat crew members, the Scottish Ambulance Service and Scottish Fire and Rescue Service were alerted to the incident by the Coastguard.
Jeff Dymond, 56, who lives near the scene of the accident went to the woman's aid. He threw a life ring to her and pulled her to shore.
Mr Dymond and his wife were watching television when they heard the sound of a crash, which happened close to a bridge on the River Aultsigh.
The river had burst its banks following heavy rain and snow melt on Saturday, and the water was spilling into Loch Ness.
Mr Dymond said: "It was total darkness and no car lights could be seen. Then I heard a woman screaming for help.
"I clambered down the embankment and could see her clinging on for dear life to one of the wheels of the car.
"She was obviously terrified. I waded waist deep into the water from the east bank of the river but couldn't reach her from there."
Mr Dymond ran back to his boat which was parked at his house. He took the boat's life ring and returned to the scene of the accident.
He said: "I got the life ring and ran back out to the bridge and threw it down to the woman.
"She managed to grab it and I hauled her up out of the water. Then the ambulance arrived so I didn't get a chance to speak to her."
He added: "She was obviously shocked by her experience I don't know how she managed to get out of the car so quickly. But she is certainly one lucky lady to still be alive."