A82 reopens between Invermoriston and Drumnadrochit after rock fall work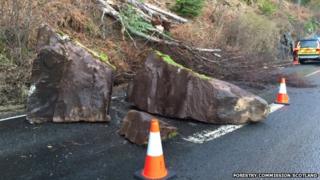 The A82 between Invermoriston and Drumnadrochit has reopened following work to clear debris from a rock fall.
An old oak tree falling into a boulder field was believed to have caused the rocks to slide down onto the trunk road on Thursday.
Forestry Commission Scotland (FCS) had been working alongside Police Scotland and road operator Bear Scotland to make the area safe.
Motorists had faced a 120-mile (193km) diversion.
Two large rocks fell on to the A82 about two miles (3km) north of Invermoriston at about midday on Thursday.
FCS said it had dealt with the immediate risks on the hillside but that there was more work to do on other sections of the hill.
Alex McLeod, from the commission, said: "The immediate issue has been dealt with and made safe.
"I would like to thank local residents and road users for their patience - and their ongoing support for our programme. I would especially like to thank and commend BEAR Scotland and Police Scotland for their assistance over these last few days.
"Our geo-technical consultants, Geo-rope, have also put in an amazing effort. Not only did they very quickly re-deployed from another site to deal with this emergency but they also were able at very short notice to draw on significant resources to complete the job safely and on schedule.
"It has been a fantastic effort on a very challenging and dangerous job."
Mr McLeod added: "However, during a final inspection that included areas of the hillside higher up the slope, it was clear that there are other areas of concern.
"We were scheduled to come to this site in September but in light of recent events we will liaise with our Geo-technical contractors, and the consultant engineers from Mott McDonald, to review our operations plan."
A helicopter was used over the weekend to bring rock breaking equipment to the hillside.
After using drills, workers injected into large unstable rocks a chemical mix that expanded and split the stone into smaller, more manageable fragments.