Inverness civilian search and rescue service launched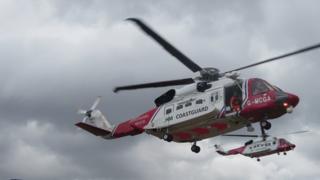 The civilian-run search and rescue helicopter service in Inverness has been launched at the city's airport.
It is one of 10 new helicopter bases which will replace the RAF and Royal Navy Search and Rescue teams, after a decision to privatise the service in 2013.
The aircraft will eventually cover the coast from north Scotland to south west England and west Wales.
The first base launched at Humberside Airport in February.
Both Inverness and Humberside Airports are due to start operating on 1 April.
Further bases will start operating in July and October, with others being added in January 2016. The handover will be complete in 2017.
'Immensely proud'
A private company, Bristow Helicopters, will operate the Search and Rescue Helicopter service for the UK on behalf of HM Coastguard.
The UK firm was awarded the 10-year UK Search and Rescue contract by the Department for Transport in March 2013.
Launching the service in Inverness, Richard Parkes, director of maritime operations at the Marine and Coastguard Agency, thanked the RAF for their service.
He said: "HM Coastguard has been providing search and rescue helicopter services in Northern Scotland for over 30 years. Today I'm immensely proud to be welcoming our third civilian base in Scotland, at Inverness.
"I would also like to pay tribute to the outstanding work that RAF Lossiemouth has carried out over many decades, both inland and out to sea. We will ensure that their legacy is continued."
The UK Search and Rescue bases at Caernarfon and Kent will go live on 1 July, followed by St Athan on 1 October.
Prestwick and Newquay will become operational on 1 January 2016 and the remaining three bases at Lee-on-Solent, Sumburgh and Stornoway will follow in 2017.