Temporary dam in place at damaged Caledonian Canal weir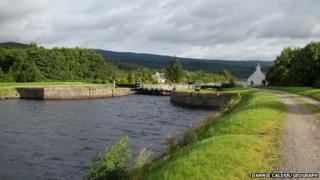 A temporary dam has been completed at the site of a flood-damaged weir on the Caledonian Canal.
The waterway has been closed to sea-to-sea traffic since heavy rain combined with melting snow to wash away the weir near Fort Augustus earlier this month.
Scottish Canals said the dam would allow repairs to be made properly at the site at Cullochy.
The organisation said it hoped the canal could be re-opened to sea-to-sea traffic on 30 April.