UK nuclear archive at Wick recommended for approval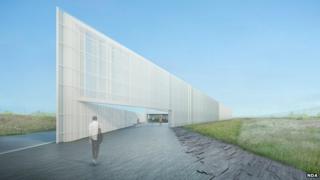 A plan to build an archive in Scotland to hold the records from all the civil nuclear sites in the UK has been recommended for approval.
The Nuclear Decommissioning Authority (NDA) has proposed constructing the centre near Wick.
Highland Council planning officers have recommended that councillors give the project planning permission.
Records from Dounreay near Thurso and Sellafield in Cumbria would be among those held at the archive.
It has also been proposed that the centre will hold historical documents from Caithness, including papers dating to the 15th Century.
Councillors will be asked to make a decision on the project next week.
The proposed location for the archive is on a brownfield site near Wick Airport Industrial Estate. The site had previously been occupied by the RAF.
The NDA hopes to have the centre built by late 2016.
Simon Tucker, NDA's head of information governance, said: "We are delighted that the officers' report recommends approval for this significant project, and look forward to the outcome of the decision-making process next week."