Explosion in boiler at Raigmore Hospital in Inverness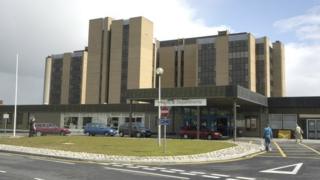 There has been an explosion in one of two biomass boilers at Raigmore Hospital, NHS Highland has said.
No-one was injured in the incident which happened at about 10:00 in the hospital's boiler room.
Staff in ward 11 and people in areas known as Phases 11 and 111 of the Inverness site's Centre for Health Science were evacuated.
There were no patients in ward 11. NHS Highland said the cause of the explosion has yet to be determined.
Fire crews were called but have since been stood down.
The hospital is using its back-up oil-fired central heating system.