New look to Glasgow, Campbeltown, Tiree and Barra links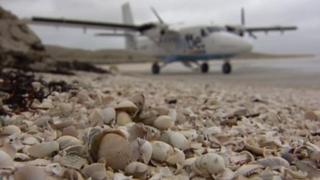 "Significant improvements" will be made to public service obligation air routes from Glasgow and Argyll and the Hebrides, the government has said.
The Scottish government subsidies the Glasgow-Tiree and Glasgow-Barra PSO routes.
A new contract to operate the services will go out to tender on 7 April.
The new requirements in the contract include increasing return trips to Tiree and Barra two per day Monday to Saturday.
The start date of Sunday services to Campbeltown are also to be brought forward from June to May, and extending Sunday services to Tiree and Barra to operate all year round.
The contract will be awarded by the end of July, with the next contract period expected to begin in October to coincide with the start of the winter timetable.
'Crucial role'
The routes were officially designated as a public service obligation and would not be commercially viable without support from the Scottish government.
Government subsidies have been paid since the mid-1970s.
Transport Minister Derek Mackay said air links were vital to the local economies of Campbeltown, Tiree and Barra.
He said: "The flights transport people, goods and services, playing a crucial role for service industries and ensuring that residents have access to specialist healthcare.
"Direct air links also enable visitors to reach the islands easily, boosting local tourism."
Two aircraft will be made available to the contractor.
The contract to supply the new planes was awarded last year and Canadian company Viking Air Limited will provide two Twin Otter DHC6-400 aircraft.
The new planes, which must be twin engined and able to land on Barra's beach runway, were expected to have been operating by April 2013.
However, the process of purchasing them took longer than expected.