Thousands of trees to be cut to protect A82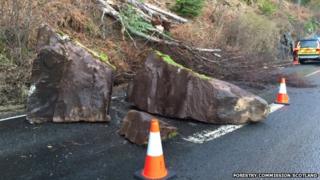 Forestry Commission Scotland (FCS) has embarked on a major scheme to cut down thousands of trees along the length of the A82 to protect the route.
An old oak tree falling into a boulder field was believed to have caused large rocks to slide down on to the trunk road last month.
The incident closed the A82 between Invermoriston and Drumnadrochit for four days.
FCS said the removal of trees will help to reduce similar problems.
However, it added that the work will take years to complete.
Last month, two large rocks fell on to the A82 about two miles (3km) north of Invermoriston.
The incident led to a 120-mile (193km) traffic diversion being put in place.
FCS brought in a specialist team to remove other rocks deemed to be a potential risk to the road.
A helicopter was used to bring rock-breaking equipment to the hillside.
After using drills, workers injected a chemical mix into large unstable rocks that expanded and split the stone into smaller, more manageable fragments.
The work to remove the thousands of trees also involves the use of a helicopter.