Inverness Leisure pools likely to remain shut next week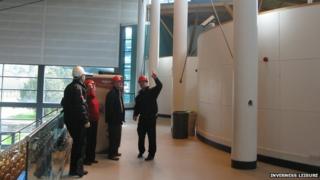 Two swimming pools at an Inverness' sports complex are likely to remain shut next week after a potential risk was found with a window in the roof.
The pools at Inverness Leisure were closed on Wednesday.
There are concerns a window in the roof over the leisure and competition pools could be "displaced during high winds".
Inverness Leisure, the organisation that runs the site, said the temporary closure was likely to extend into next week.
A spokesman said the company was "extremely apologetic" to customers who had hoped to use the pools during the Easter weekend and the school holidays.
He said: "Understandably there is a substantial amount of scaffolding to be erected and we have agreed that the contractor will work over the Easter weekend in order to ensure things are moved forward as quickly as possible.
"It is envisaged that the scaffolding will be in place by the start of next week so we have already booked a structural engineer to return on Tuesday morning to access the roofs and assess what remedial action will be required, if any."
The spokesman added: "It is now almost certain that the pools will be closed next week and we will review this once we have received the report from our structural engineer.
"A further update will be offered to our customers midweek."