Rats claim shuts kitchen at Dingwall's Ben Wyvis Primary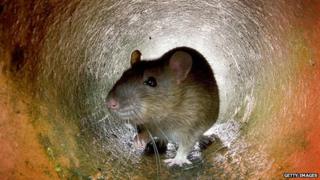 The kitchen at a primary in Dingwall was shut as a precaution on Wednesday and Thursday after parents said they saw rats outside the school building.
Highland Council said pest control officers have found evidence of rodents in a store room at Ben Wyvis Primary but not in the kitchen.
Some packaging in the store had been chewed, but pest control said there was no evidence of an infestation.
Pupils were supplied with lunch by another school.
The primary, along with other schools in the Highland Council area, have now shut for the Easter holidays.
A council spokeswoman said: "The head teacher made the decision to close the kitchen yesterday as it was claimed parents had seen rats outside the school building.
"Pest control visited the school yesterday and although there was evidence that vermin had gained access to a store room where some packaging was chewed they conclude that there is definitely not an infestation."
Bait and traps have been laid.
The spokeswoman added: "All preventative measures which can be taken have been - including putting food in plastic containers and storing food on high shelves.
"The school's maintenance officer and the pest control officer will monitor the situation through the holidays."