Hial airport security staff go on strike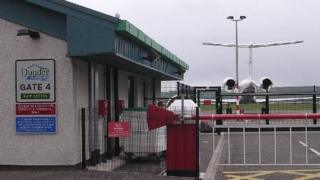 Security staff at Scotland's regional airports have started a 48-hour strike over pay and conditions.
The Prospect union and Highlands and Islands Airports (Hial) have been holding talks in the hope of resolving the dispute.
The strike, affecting 11 airports, began at midday.
Hial said all of its airports were operating as normal, as were all scheduled services apart from the Dundee-Stansted service.
A spokesman said scheduled passengers intending to fly were advised to arrive 15-20 minutes earlier for their flight and limit the amount of hand or check-in luggage they take to the airport.
Scottish government-owned Hial also said it would be helpful if passengers could limit the amount of liquids they check in to help speed up the security process.
Passengers should confirm the status of their flight with their airline before leaving for the airport.
All Dundee passengers with flights booked from Tuesday afternoon to Thursday morning should contact the Loganair passenger contact centre on 01496 302 022 to rebook their flights.
General Aviation traffic will operate as usual at all 11 airports, which include those in the Hebrides, Orkney and Shetland, Argyll, Inverness and Wick.
About 120 staff in the Prospect union at security company AMSL, are taking part in the industrial action.
Prospect national secretary Alan Denney said: "All Prospect members who were at work today came out on action as far as we know.
"It's not fair in our view, and in the view of the members, that AMSL staff are treated in such an inferior way.
"We're ready to meet with the company to discuss any meaningful offer but if there isn't a meaningful offer then in the early days of next week we'll be considering what we do next , which of course could be a further stoppage or series of stoppages."
Arrive early
A Hial spokesman said: "We have been working hard throughout the day to ensure that passengers across our airports are not inconvenienced by this industrial action and we would like to thank the many Hial staff who have volunteered to support this effort.
"We obviously regret that Dundee's scheduled service to Stansted has been suspended for the duration of the strike. However, aside from this, there has been no disruption to passengers, with 10 of our 11 airports operating a normal schedule.
"We would like to thank passengers for their patience and co-operation and remind anyone travelling for the duration of the strike action to arrive early for their flight and limit the amount of liquids and luggage they bring to the airport."
Prospect has sought a basic pay increase of 5%, equalisation with Hial's terms and conditions and parity with higher-paid staff at Sumburgh Airport on Shetland.
Hial said the islands have a higher cost of living, low rates of unemployment "and a buoyant oil-based economy has traditionally attracted higher wages".
The company said collectively the package of measures would amount to an increase of almost 30%.
In an earlier statement, Hial said even a rise of 5% was "wildly unrealistic".