Skye's Glendale Trust takes over Borrodale School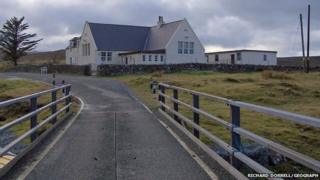 A community group on Skye has officially taken over a closed-down school in Glendale on the island.
The Glendale Trust has planning permission to convert Borrodale School into a 16-bed bunkhouse and construct a community hub and children's play area.
A restaurant, exhibition space and a community laundrette will be among the features of new building.
Borrodale School was formally closed by Highland Council in 2010 after being mothballed for a number of years.
The Glendale Trust secured a £190,000 grant from the Scottish Land Fund last year to put towards the cost of buying and developing the site.
The overall cost of converting the school is expected to cost about £1.2m.