Talks urged in Hial airports workers pay dispute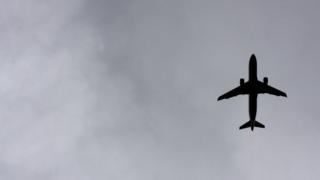 The Scottish government has again urged airports management and union leaders to hold talks on resolving a workers pay dispute.
Industrial action by security staff at Scotland's 11 regional airports came to an end at midday without a resolution.
More than 120 members of the Prospect union began the 48-hour strike on Tuesday. They are now working to rule.
Highlands and Islands Airports Limited (Hial) and Prospect are in dispute over an increase in wages for workers.
Hial is owned by the Scottish government.
The employees involved in the strike work for AMSL, a subsidiary of Hial.
Transport Scotland said it was "entirely right" that Hial led on discussions with Prospect and will continue to do so.
A spokesman for the government agency added: "Ministers and Transport Scotland have continually urged both parties to continue their detailed discussions and do so again today.
"We continue to work with Hial and remain confident that an agreement can be reached that is acceptable to both parties."
Prospect said the work to rule included an indefinite ban on overtime and rest day working as well as covering for senior staff.
National secretary Alan Denney said: "We have yet to receive notification of a formal offer from Hial or an invitation to a meeting.
"However, we are more than willing to enter into dialogue with conciliation service Acas in order to settle this long-running dispute."
Hial said it had previously made "great strides in improving" pay and conditions for AMSL staff, including a 30% pay rise over the past five years.
The company said it was urging the union to resume negotiations.
Managing director Inglis Lyon said: "We reached a point late last week when discussions were progressing well and the trade union had indicated where their flexibility lay.
"Yesterday, however, they appeared more resistant to discussion than ever."
Both Prospect and Hial have thanked air passengers for their support and patience during the 48-hour strike.
Ten of the airports remained open during the industrial action, but Dundee was temporarily shut.
Hial gave managers training in security work to keep sites on the Hebrides and Northern Isles and at Inverness, Campbeltown and Wick open.