Firefighters tackling wildfires across the Highlands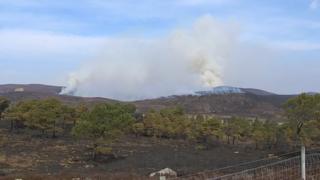 Firefighters have been dealing with several wildfires across the Highlands.
About 40 remain at the scene of a moorland blaze a few miles north west of Dornoch. Crews were first called to the scene at 12:30 on Thursday.
Other incidents have been reported near Lochinver, Cluanie, Balintore and Loch Broom and on Skye and Benbecula.
The heath and grass fires have come during a spell of dry and windy weather and a warning of an increased risk of wildfires in Scotland.
At the height of the incident near Dornoch on Thursday night eight appliances and four other units were involved in tackling the flames.
The Scottish Fire and Rescue Service said a number of appliances were still at the scene on Friday.
Incident commander John MacDonald said: "We are dealing with a very protracted wildfire incident which covers a wide area and where access is difficult in places.
"I would like to pay tribute to the commitment and effort of fire crews who have been dealing with this incident.
"I'd also like to thank local residents for their assistance and support during this incident."