Yachtsman suffers burns in explosion at Puilladobhrain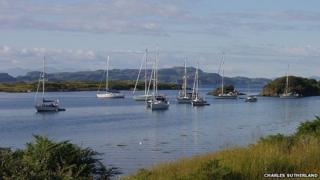 A yachtsman was treated for burns following an explosion on a vessel anchored off an island near Oban.
The Oban lifeboat was launched on Thursday evening after the explosion near Puilladobhrain, which blew out the boat's windows and hatch.
The owner managed to escape the vessel and rowed himself ashore, making his way to Oban hospital. He was later transferred to Glasgow for treatment.
The lifeboat crew towed the yacht back to Oban to be safely berthed.