Partial reopening planned of fire-hit Inverness street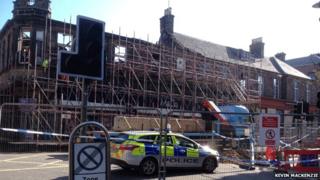 Pedestrians should be able to access parts of a city centre street closed by a blaze since last Wednesday later this week, Highland Council has said.
Scaffolding has been erected at the property in Inverness' Academy Street badly damaged in the fire.
The local authority said businesses unaffected by the incident were open as usual.
From Tuesday, the council hopes to open the pavement opposite the scene of the fire to pedestrians.
Some bus services will return to nearby Union Street from Tuesday morning.
Police Scotland and the Scottish Fire and Rescue Service have started an investigation into the cause of the blaze.