Canadian Navy capture images of aurora borealis over Scotland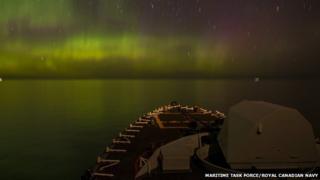 The crew of a Royal Canadian Navy frigate have captured images of the aurora borealis while taking part in a major Nato exercise off Scotland.
The photographs were taken from HMCS Fredericton, one of more than 50 ships involved in Joint Warrior.
The UK-led exercise - which is held twice a year in April and October - includes several locations in Scotland and in the sea off its coast.
April's Joint Warrior is being held on the biggest scale in its history.
The exercise, which will finish later this week, also involves 70 aircraft, some being based at RAF Lossiemouth in Moray and Prestwick Airport in Ayrshire, along with 13,000 personnel.
Fifteen countries have been taking part in the training in anti-submarine warfare and mock attacks on warships by small boats.