Portree GPs challenge NHS Highland's Skye proposals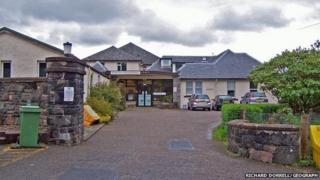 A group of GPs have challenged NHS Highland's planned changes to hospital provision in Skye and Lochalsh.
The health board's proposal to build a new hospital in Broadford and turn Portree Hospital into a smaller "spoke" unit has Scottish government approval.
Doctors at Portree Medical Practice said the move would be a downgrade rather than an upgrade of services.
NHS Highland said the GPs had misunderstood the terminology used to describe A&E and out-of-hours services.
The doctors said they had "comprehensively dismantled" the briefing paper the health board presented to Scottish ministers on the redesign of hospital provision.
They said NHS Highland claims that Portree Hospital has, since 2004, provided no more than a "minor injuries unit", and that all serious emergency cases have been taken directly to the accident and emergency facility in Broadford.
Emergency care
The health board said there had been a misunderstanding about the terminology it had used to describe A&E and out-of-hours services.
Gill McVicar, director of operations for north and west Highland at NHS Highland, said the GPs provided people with an urgent service at the practice and an out-of-hours service at Portree hospital.
She told BBC Radio Scotland that, more often than not, however, patients then went to hospital in Broadford or Inverness if they needed emergency care.
Ms McVicar said she had spoken to GPs about the terminology used to explain that process.
She added: "The plans for the future maintain a primary care emergency service and minor injury service in the north of Skye. That wouldn't be changing at all."
Health Secretary Shona Robison approved NHS Highland's redesign of hospital provision in February.
The new set-up will serve patients on the island and also Lochalsh on the mainland.
Islanders in the north of the Skye campaigned last year to have Portree developed as the main site.
They said they may seek a judicial review of the consultation process into the site for the new hospital.
NHS Highland has defended the options appraisal carried out by a steering group.
The Scottish Health Council has also said the process was legitimate.