RAF Lossiemouth Shackleton crash on Harris recalled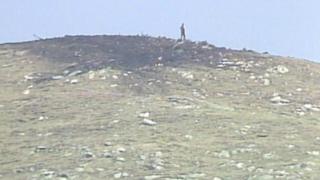 Islanders on Harris have been commemorating a crash 25 years ago that killed 10 airmen flying a maritime patrol aircraft from RAF Lossiemouth.
Avro Shackleton WR965 struck the top of Maodal, a hill near the village of Northton, on 30 April 1990.
The crew were flying the Shackleton, an aircraft nicknamed Old Grey Ladies, on a routine exercise.
Angus John McVicar, who was one of the first on the scene, recalled how hopes of finding any survivors were dashed.
The former special constable told BBC Alba: "We came across debris and then some bodies and we knew it was really bad.
"Helicopters arrived from Lossiemouth and it was a very, very busy scene.
"We could only account for nine from the plane and some of us were sent to the back of the hill to see if someone had survived and had walked off in a daze.
"We were later told there was nobody alive."
The aircraft was from 8 Sqd, a squadron that was stationed at RAF Kinloss until August 1973 when it transferred to nearby Lossiemouth.
The Shackletons were retired from service on 1 July 1991.