Luxury hotel plan for Sutherland's Carbisdale Castle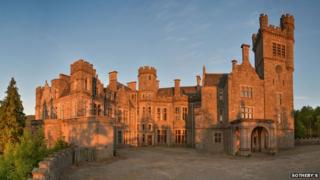 The prospective new owners of Carbisdale Castle in Sutherland have revealed plans to spend £6.5m on turning it into a luxury hotel.
A former stately home, the property was a youth hostel until four years ago when it was closed because of the high cost of repairing water damage.
A company called Carbisdale Castle Ltd is in the process of buying the building near Ardgay.
It said the planned 21-bedroom hotel could create jobs for up to 90 people.
Kevin Keenan, of Carbisdale Castle Ltd, said: "Our aim is simple - we want to create one of Scotland's luxury hotels and if we can become No 1 so be it.
"Carbisdale Castle is a majestic building and we have spent a considerable amount of time, money and resources to plan how we can both respect its grandeur yet still transform it into a five star luxury destination hotel that will rival any hotel offering in Scotland.
"The castle will become alive again with the sound of people enjoying the joys of this landmark building as it must have done in the past."
The Scottish Youth Hostel Association (SYHA) is selling the castle.
In a separate sale by the association, the property's valuable art collection will be offered at an auction in London. The sale of the sculptures and paintings is opposed by a petition.
The castle, which overlooks the Kyle of Sutherland, was shut as a hostel after suffering frost damage and SYHA was unable to obtain sufficient funding to cover the cost of the repairs needed.
Carbisdale had been given to SYHA as an unconditional gift and was run as a youth hostel for almost 70 years.
Keith Legge, chief executive of SYHA, said: "Carbisdale Castle was a truly iconic youth hostel which I am sure will be remembered with great affection by generations of the 1,000,000 overnighting hostellers that SYHA has hosted there in the last 67 years.
"However, the reality is that SYHA has to make responsible business decisions which support our charitable aims. As a not-for-profit self-funding charitable organisation, we have a duty to make best use of scarce resources."
Historic Scotland lists the castle and its entrance gates as category B, which means they are structures of regional importance.
The Dowager Duchess of Sutherland had Carbisdale Castle built between 1907 and 1917 following the death of her husband, George Granville William Sutherland-Leveson-Gower, the Third Duke of Sutherland.
Lady Mary was the duke's second wife and after he died she became embroiled in a legal dispute over his will with her stepson, the fourth Duke of Sutherland.
When the row was settled the duchess used her inheritance to have Carbisdale constructed.
The property is said to be haunted by a ghost called Betty.