Car found at Inverness' Muirtown Locks recovered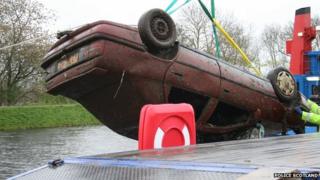 A car found submerged at Muirtown Locks in Inverness has been recovered from the water.
Police were alerted to the red Vauxhall Cavalier on Monday evening by a diver carrying out maintenance to a boat.
Police divers were called in and they carried out an examination of the car on Monday before it was hauled from the water.
It was understood the driver and passenger seats of the vehicle were empty.
Police Scotland said the car appeared to have been in the water a "long time".
A spokesman said efforts would be made to trace the vehicle's owner.