Hial security staff vote to accept pay deal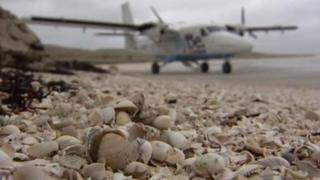 Prospect union members working for Highlands and Islands Airports Limited (Hial) have voted to accept an offer on their terms and conditions.
More than 120 security staff held a 48-hour strike in April which led to the closure of Dundee Airport.
Hial's other 10 sites continued to operate during the action.
The union members have voted 95% in favour of an offer to harmonise their terms and conditions over the next 20 months.
There was a turnout of 74% of the members to the ballot.
Hial operates 11 Scottish airports in Dundee, Inverness, Argyll, the Hebrides, Orkney and Shetland and Wick.