Norovirus shuts ward at Inverness' Raigmore Hospital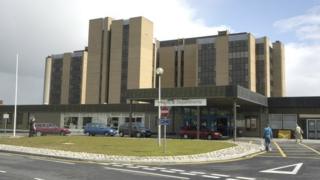 A ward at Raigmore Hospital in Inverness has been temporarily closed to new admissions because of norovirus.
Four patients have been affected by the sickness and diarrhoea bug.
Ward 7C was one of four at the hospital recently reopened to admissions following an outbreak of norovirus.
NHS Highland said people planning on visiting after coming into contact with the bug should not do so for at least 72 hours after last feeling unwell.
Previously people have been asked to stay away from the hospital for at least 48 hours.
More than 50 patients took ill in the last outbreak at Raigmore.
For a time, the hospital was closed to all visitors as part of NHS Highland's effort to control the virus.
Dr Emma Watson, a consultant microbiologist for NHS Highland, said: "It is disappointing that we have had to close the ward so soon after it was reopened.
"We know there is significant norovirus in the community and we do believe that this is an infection that has been brought into the ward and has affected new patients."
She added: "Again we would stress that people do not come to the hospital to visit if they have, or live with someone who has, had any vomiting or diarrhoea.
"As this strain seems to have a longer incubation period we would ask that anyone coming into the hospital needs to be clear for at least 72 hours."