More skiing at Glencoe, Nevis, Lecht, Glenshee and CairnGorm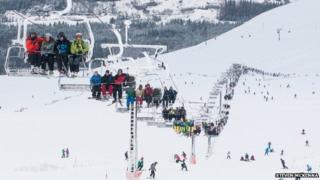 Scotland's five mountain snowsports centres were able to open more often in their latest season than they did in the last one.
Umbrella body Ski-Scotland said The Lecht, Glenshee, Nevis Range, CairnGorm Mountain and Glencoe Mountain operated for a total of 463 days.
Last season the sites opened on 441 days.
The season involved 230,634 skier days. There were 235,303 in the 2013-2014 season.
A skier day means one person who skis or snowboards on one day. Many of the same people return to the slopes several times during the season.
Ski-Scotland said the latest season generated £23.2m for the Scottish economy.
Heather Negus, of Ski-Scotland, said: "In many ways, this season was very similar to last year's.
"We had excellent snow at most resorts and the five snowsports areas were able to operate for a total of 463 days, better than last season's 441."