Disease found in ancient oak woodland near Oban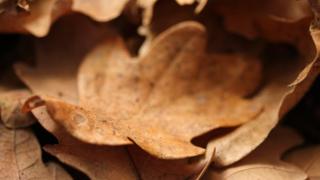 A fungal disease that affects ash trees has been found in one of Scotland's oldest woodlands.
Chalara fraxinea, or ash dieback, has been detected in Glen Nant, a Site of Special Scientific Interest and National Nature Reserve.
The area south east of Oban is thought to have been wooded for thousands of years.
Ash trees in two locations in Morvern have also been affected by the disease, said Forestry Commission Scotland.
The three sites newly identified as having Chalara fraxinea were designated "sheltered areas" in FCS's action plan to control the disease.
It had been hoped that its arrival in Glen Nant's ancient oak woods and Morvern in the Highlands could be delayed.
'Buffer areas'
Environment Minister Aileen McLeod said FCS has been working "extremely hard" over the past three years monitoring and managing ash woodlands in a bid to slow down the disease's rate of spread.
She said: "The sheltered area's comparative remoteness offered some prospect of delaying the arrival of the disease but, regrettably, this now appears not to have been the case.
"I have asked Forestry Commission Scotland to review the Chalara Action Plan, with advice from the Scottish Tree Health Advisory Group, to assess what more can be done to promote adaptive action and to consider the appropriateness of current actions within the sheltered and buffer areas."
Glen Nant is part of one of the most extensive oak woodlands in the UK. Ash are among the other trees that grow in the woods.
Between the 1750s and 1874, the glen's woods were leased to ironmasters in Bonawe in Argyll.
Wood was harvested for making charcoal for furnaces used for the manufacture of iron.