Braveheart actress to play Flora MacDonald in new film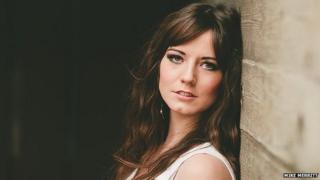 A Glasgow-born actress and model, who appeared in Mel Gibson's Braveheart, is to play Flora MacDonald in a new film about Bonnie Prince Charlie.
Mhairi Calvey, 27, played the younger version of Catherine McCormack's character Murron - William Wallace's love - in the 1995 movie.
New feature The Great Getaway is to tell the story of Prince Charlie's flight from the Battle of Culloden.
MacDonald helped him to evade capture by government troops.
She helped the prince, who had disguised himself as Betty Burke, an Irish spinning maid, to sail from Benbecula to Skye.
Calvey said: "I am about the same age as Flora was when she helped Bonnie Prince Charlie to escape.
"I read the script twice when I was sent it - it was that brilliant. I could not put it down.
"I studied her at school - I never thought I would end up playing Flora one day. It is a dream come true."