Academic papers examine 'The Dress' colour debate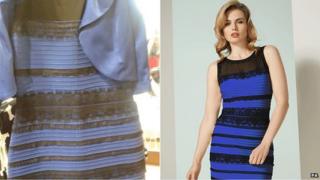 Three academic papers have been published after a social media storm about the colour of a dress, which started in Scotland, went global.
Alana MacInnes, of Uist, and Caitlin McNeill, from Colonsay, asked people online whether they saw the colour as gold and white or blue and black.
The debate was picked up by fashion bloggers, Twitter, Buzzfeed and celebrities including Taylor Swift.
Neuroscientists are among the authors published by Current Biology.
In their paper, Individual Differences in Colour Perception Uncovered by The Dress, the scientists said the phenomenon "marked the greatest extent of individual differences in colour perception ever documented".
Bevil Conway, one of the neuroscientists, said: "It caught fire because it was a case in which colour wasn't doing what we expect."
In a survey of 1,400 individuals, with more than 300 who had never seen The Dress before, Mr Conway and his team found "impressive individual differences" in colour perception.
They also found that people fall into one of three camps corresponding to the main groups identified by social media - a blue/black camp, a white/gold camp, and a smaller blue/brown contingent.
Another of the papers, The Many Colours of The Dress, reports on a study led by psychologist Karl Gegenfurtner at Giessen University in Germany.
Third paper, The Special Ambiguity of Blue, asks whether the debate would have gone viral if its hashtag on Twitter had been #greenandblack or #orangeandblack?
On Twitter, the debate became a top trending subject with the hashtag #TheDress and #whiteandgold.
As well as catching the attention of academics, the social media storm influenced the imagery for a Salvation Army South Africa campaign.
It asked why it was so hard to tackle abuse against women.
The campaign featured a woman with bruises in a gold and white dress.
The message on the campaign asked: "Why is it so hard to see black and blue".