Lewis schoolgirl Rosie Sullivan wins UK song award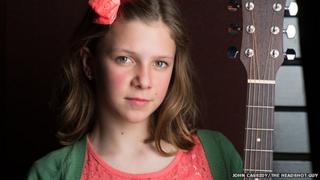 A young singer-songwriter from Lewis who came up with her first original song when she was three-years-old has won an award in a UK music competition.
Rosie Sullivan, 12, won the seven to 12-year-old category of the Song Academy Young Songwriter Competition.
She wrote Runs from the Storm while on a recent family holiday near Ullapool.
Her dad Mike said she has since had to come back to earth with a bump. He told BBC Radio Scotland: "She still has to tidy her room."
Rosie won a recording session at EMI's studios in London.
She told the Good Morning Scotland programme: "I've been singing and humming tunes ever since I was really young.
"I wrote my first song Dollies on the Road when I was three years old. My auntie told me this. I don't remember singing it."
Rosie, who plays guitar, fiddle and piano, wrote her winning song on a trip to the north west Highlands.
She said: "Every year my family and I go to a cottage somewhere outside Ullapool.
"It was really snowy this year and I was looking out the window and I could imagine a small boy running from the storm."
Mr Sullivan said his daughter has loved music since an early age and her primary one teacher had even asked how to stop her singing in class.
He joked: "She's come back from London with a bump. She still has to tidy her room."