MoD starts consultation on expanding Raasay Ranges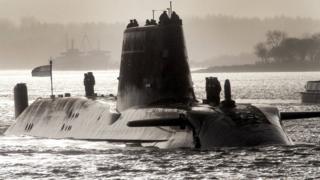 The Ministry of Defence (MoD) has started a public consultation on a planned expansion of a test area in Scotland for Royal Navy submarines.
Fishing is banned in an area six miles (10km) long and three miles (6km) wide in the Raasay Ranges.
SNP MSPs Dave Thompson and Ian Blackford have raised concerns that a wider area will be restricted.
The MoD said its contractor QinetiQ had begun a separate consultation process with local fishermen.
Discussions will also be held with members of fishing communities about whether controlled creel and dive fishing around the test area might be possible at certain times, the MoD said.
An MoD spokesperson said: "The consultation is already under way with a range of stakeholders, including local communities and sea users, regarding the proposed expansion of the Raasay Ranges.
"We have been clear that we are committed to proper engagement as part of the MoD byelaw review, and no decision on the ranges will be made until this is complete."
The ranges in the Inner Sound between the Isle of Raasay and Applecross on the mainland form part of the British Underwater Test and Evaluation Centre (Butec).
Butec provides a sonar and weapon system test area for the Royal Navy crews of Vanguard-class nuclear weapon submarines and Astute and Trafalgar-class attack submarines.
Fishing is prohibited in the area and fishing boats and other vessels can only remain in the Butec test area for as long as it is necessary for them to pass through the Inner Sound.
The submarine ranges are run from a site near Kyle of Lochalsh.