HMS Natal World War One disaster remembered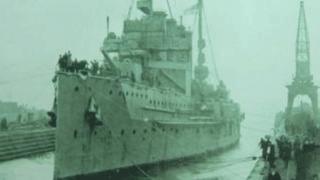 The loss of 421 people including sailors, women and children when a warship sank during WW1 is being marked by a series of events.
HMS Natal capsized in the Cromarty Firth in the Highlands minutes after ammunition on board exploded.
Natal's captain was hosting a film show for officers, their wives and a local family. About 400 of the crew survived because they were on shore leave.
A church service and a wreath laying are among the commemorative events.
A buoy marks the site of the sinking today. Much of the steel from the warship was salvaged after the incident.
Communities along the Cromarty Firth have come together to remember both the 110th anniversary of the Natal's launch at Barrow-in-Furness on 30 September 1905, and 100 years since it sank on 30 December 1915.
Valerie Campbell-Smith, a trustee of Invergordon Museum, said the "heart-rending disaster" was covered up at the time.
She said: "This came early on in the war and I don't think they (the government and Admiralty) wanted to admit more than 400 died in their own land."
There were rumours at the time that the explosion was caused by sabotage, she added.
The commemorative events have begun with a memorial church service at Invergordon Parish Church.
It was followed by a wreath-laying ceremony at the Natal buoy involving Rosalind Cahill, grand-daughter of the ship's Capt Eric Back.
Cromarty school pupils will pay their own tribute with a ceremony at 15 Natal graves in the village cemetery.
Pipers will introduce and close the event, which will include a bugler from the band of the Royal Marines playing the Last Post.
Later, the full marching band of the Royal Marines will perform Beating the Retreat at Cromarty Harbour where a memorial panel telling the story of the disaster will be unveiled.
HMS Natal was part of a squadron of naval vessels at anchor in the firth, a key anchorage for the Royal Navy before, during and after WW1.
Capt Back had invited officers, their families and also nurses from Drina, a nearby hospital ship, on to the cruiser for a Christmas film party.
The guests included a local husband and wife and their three children.
Hundreds of members of Natal's crew were on shore leave. Some were playing football when the series of powerful explosion tore through the ship.
Natal capsized within five minutes.
Faulty cordite was blamed for causing ammunition to explode.