Passenger opened exit on plane blown off Stornoway Airport runway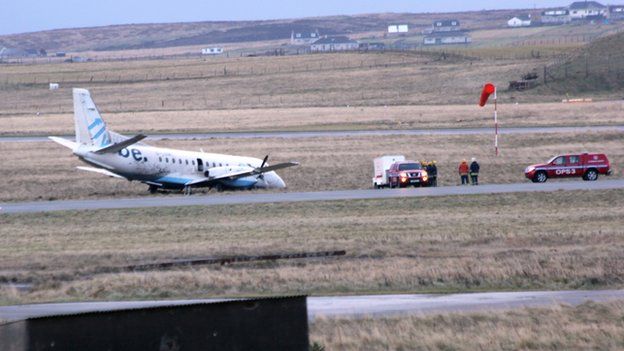 A passenger opened an exit on a plane that had come off Stornoway Airport's runway despite the captain's request to remain seated, a report has found.
The Loganair service was due to fly to Glasgow on 2 January.
A report into the incident said people were asked to remain seated because the propellers were still turning.
The passenger opened an exit over the right wing. The propeller on that side had stopped but the one on the left was still turning.
After the right propeller had stopped and climbing on to the wing, the passenger helped the remaining people to exit the aircraft.
A member of the cabin crew decided to allow the passenger to continue because the propeller on his side had stopped and he was helping others to leave the plane.
The newly released Air Accidents Investigation Board (AAIB) report said it was possible a drop in wind speed when there had been strong and gusty crosswinds may have been a factor in causing the aircraft to come off the runway during take off.
Those on board told the AAIB of the plane turning right slightly and then left "sharply".
There were three crew and 26 passengers on the aircraft. The incident happened at about 08:33.
Four people were reported to have been hurt, but the AAIB report has recorded no injuries among the passengers and crew.
Related Internet Links
The BBC is not responsible for the content of external sites.