Sutherland clearances extraordinary episode, says historian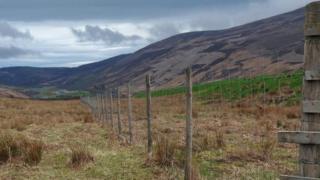 A leading historian says he has sought to give a voice to thousands of people cleared from land in Sutherland in the early 19th Century in a new book.
James Hunter said the eviction of communities from Sutherland was done a scale not seen before, or again, during the Highland Clearances.
Families were moved off land to make way for large-scale sheep farming.
Prof Hunter is emeritus professor of history at the University of the Highlands and Islands (UHI).
In his book, Set Adrift Upon the World: The Sutherland Clearances, he has described the depopulation of the Highland county within eight years as an "extraordinary episode".
He said: "Nothing like this - certainly nothing so organised and on such a scale - had taken place in Britain before.
"Nothing quite like it would take place again."
Industrial revolution
Prof Hunter also argues that historians tended to be drawn to the stories of powerful and influential figures, and not those of ordinary people.
Sutherland's clearances is also the subject of a new film being made in the Highlands.
Last Footsteps of Home tells the story of a young woman who was among 80 people forced off land in Sutherland and emigrated to Canada in the 1800s.
Starting in the late 18th Century and running into the 19th Century, the Highland Clearances saw townships occupied by generations of families cleared to make way for large-scale sheep farming and the rearing of deer.
Landowners were seeking to "improve" their estates in line with the industrial revolution.
In some cases people who had lived on the land for generations left voluntarily, while others were forcibly evicted and their homes burned and demolished.