Kew's Millennium Seed Bank to take Scottish specimens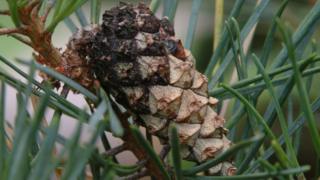 Seeds from trees native to Scotland are to be collected and stored for their long-term conservation.
Target species include Scots pine, which is Scotland's national tree, common juniper, common ash, common alder and silver birch.
The seeds will be placed in Kew Royal Botanic Gardens' Millennium Seed Bank.
Fifteen organisations, including Trees for Life, Forestry Commission Scotland and Woodland Trust, will be involved in gathering healthy seeds.
Funding for the collection and analysis work has been secured from the People's Postcode Lottery.
Environment Minister Aileen McLeod said the effort would "safeguard" Scotland's forests.
Clare Trivedi, UK National Tree Seed Project coordinator, said the involvement of the Scottish organisations was welcomed.
She said: "In recent times we have seen an increasing threat to our trees from many newly arrived, often very aggressive pests and diseases, and challenges associated with climate change.
"Establishing the UK's first comprehensive national tree seed bank is absolutely crucial.
"The UK's tree cover is amongst the lowest in Europe. Avoiding further degradation of our woodlands, and the wider environmental, economic and social impacts of this, ultimately hinges on conserving the valuable genetic diversity of our trees and shrubs."
Scots pine seeds collected in Scandinavia have already been entered into the Svalbard "doomsday" vault.
The frozen depository above the Arctic Circle opened in 2008 and is designed to withstand all natural and human disasters.
Researchers hope the tree seed samples will help monitor long-term genetic changes in natural forests.