Steven Mitchell named as driver killed in A835 tanker crash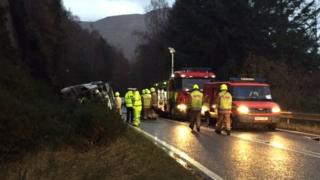 A man who died when the fuel tanker he was driving crashed on the A835 in the Highlands has been named by police.
Steven Mitchell, 48, from Inverness, was fatally injured in the accident three miles south of Ullapool at Loch Broom, at about lunchtime on Saturday.
No other vehicles were involved and no one else was injured.
Police have urged anyone who witness the crash who has not yet come forward to contact them.
Drivers faced lengthy diversions while the road was closed for an investigation.