Portree High School pupils' bus damaged as police and migrants clash at Calais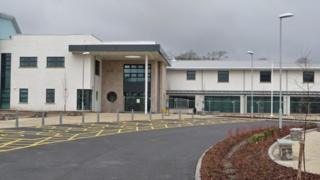 A coach taking school pupils home to Skye from a ski trip was caught up in an incident between police and migrants near Calais, Highland Council has said.
The 35 Portree High School students and nine adults on the bus were travelling through France on their way home from Italy in the early hours of Sunday.
An outer window of double glazing on the coach was broken as it passed through the incident, the council said.
No-one on the bus was hurt and the party of pupils has arrived in Skye.
Highland Council said that the window on the bus was broken by a large branch that was thrown at the vehicle.
Drew Millar, a councillor for the island and Highland Council's education committee chairman, told BBC Radio Scotland: "My information is that the bus taking the children through Calais was attacked by migrants.
"There was damage done to the bus and they were able to continue on and were lucky no-one was injured."
The S2 to S6 pupils were asleep at the time, the local authority said.
In a statement, Highland Council said the school trip was "caught up in an incident between police and migrants as they approached Calais".
The two drivers on the coach reported the incident to the Police and Border Control at Calais and the coach was deemed safe to continue its journey.
'Returned safely'
Bill Alexander, Highland Council's director of care and learning, said: "We were alerted to the incident yesterday and parents were informed.
"This was an unfortunate episode to the end of what was otherwise a very successful school ski trip. All those on the trip have returned safely."
Portree High School head teacher Catherine MacDonald added: "Everyone has returned home safe and sound from what was a fantastic ski trip with snowsports certificates under their belts.
"No one was injured as a result of the incident at Calais which was efficiently dealt with by our coach operator."
The pupils were returning from a school trip to Aosta in Italy.