Councillors defer a decision on Wick's twinning link with Klaksvik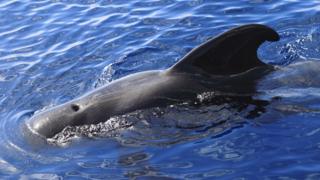 Highland councillors have deferred making a decision on the future of a twinning link between Wick and Klaksvik in the Faroe Islands.
Caithness civic leader Gail Ross has called for an end to the link because of the Grindadráp, a traditional Faroese pilot whale hunt.
Council officers have also said that there have been no formal visits between Wick and Klaksvik since 2001.
Klaksvik mayor Jógvan Skorheim has said the link could be strengthened.
Last year, in an open letter to Klaksvik, Ms Ross said Wick did not want to be associated with the "disgusting spectacle of the slaughter of whales".
Highland Council's Caithness committee have discussed the matter and decided to defer a decision on the future of the link to allow for talks with Mr Skorheim.
Roger Saxon, a councillor representing Thurso, said the link was established by the former Caithness District Council.
He said it was an agreement of "friendship and cooperation" and Caithness continued to have an active link with the Faroe Islands through Faroese fishing boat crews' use of Scrabster, near Thurso.
Mr Saxon said councillors in Wick had decided to end the tie without discussing the matter with other Caithness councillors.
He told BBC Radio Scotland: "You don't send ultimatums to your friends."
Bill Fernie, a councillor for Wick, said it was right to defer the decision to allow for discussions with Mr Skorheim.
He said he was personally opposed to the Grindadráp.
Mr Fernie said: "Quite a number of us don't feel that what they are doing now is the right way to go, due to the fact that views have changed on whaling.
"Once upon a time the UK was a whaling country and Scotland was a whaling country, but we are signatories to a lot of agreements that are against killing whales."
Klaksvik mayor Jógvan Skorheim said: "I am pleased to hear that the councillors of Wick are willing to hear the Faroese point of view before making their decision about the twinship.
"I find it to be the most reasonable way to deal with the situation and I am looking forward to entering a dialogue with the Wick-delegation, after which both sides can make informed decisions about the future of our relationship."