Laser shone at rescue helicopter in Inverness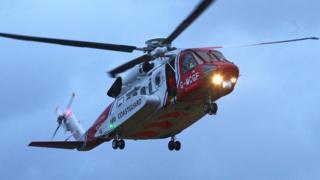 A laser pointer was shone into the cockpit of a search and rescue looking for a missing man in the River Ness, police have said.
The green laser is thought to have been aimed from the Merkinch area at about 19:00 on Sunday.
The Coastguard helicopter was being used in the search for a man who is believed to have fallen into the river in Inverness earlier that day.
Police said using the laser in this manner was "extremely reckless".
A spokesman added: "Such use could have dangerous consequences for the person distracted - who in this particular instance, was the pilot of an aircraft - in addition to any crew on-board and also the general public."
Police have appealed to anyone with information about the incident to contact them.