Island mother scoops £2.5m jackpot in online game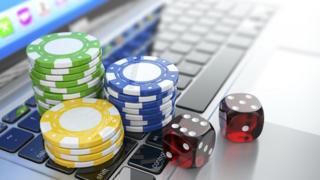 A Scottish woman is celebrating becoming a millionaire after scooping a £2.5m jackpot in an online casino game.
The single mother won the cash just three months after netting £30,000 with the same bookmaker.
William Hill said the latest prize was the largest ever won by one of its customers.
The woman, who lives on an island in the north of Scotland and works in a school, described the accumulated jackpot win as "surreal".
She has asked to remain anonymous.
She has booked a trip to Disneyworld for herself and her seven-year-old son but has no idea what she will do with the rest of her winnings.
"I was washing the dishes this morning and thought to myself - 'no matter how much money you have, you still have to wash the dishes,' she said.
"It is all still so surreal. You obviously play these games, hoping to win a couple of quid, not a couple of million. I'm still stunned."
The woman won a total of £2.558m on The Festival of Lights Vegas game.
A spokesman for William Hill said: "This, by our reckoning is the biggest sum that a William Hill customer has ever won. It is an incredible, life changing sum of money."