Orkney book club 'gobsmacked' by JK Rowling visit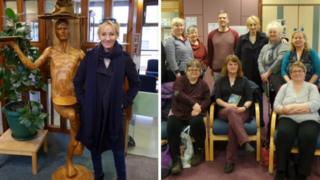 One of the world's most successful authors dropped into Orkney Library for a surprise visit.
JK Rowling spent two hours at the library on Saturday, taking part in a book group that was discussing her novel The Cuckoo's Calling.
Senior library assistant Stewart Bain had invited the author to attend the group over Twitter the previous day - but never expected her to come.
Mr Bain said everyone in the group was "gobsmacked" to see her.
"It really was quite unbelievable. We'd heard a rumour earlier that she had arrived in Orkney and then all of a sudden she was there," he said.
"I think it's fantastic that she came all the way here to see us and shows the level of support and passion that she has for her readers."
The Saturday Slaughters book group was discussing JK Rowling's 2013 crime novel which was written under her pseudonym Robert Galbraith.
The author spent time with the group, giving the members a chance to ask her about the work, and was given a tour of the library.
J.K. Rowling tweeted after her visit: "@OrkneyLibrary I had the best time! Thanks for wonderful chat, cake and, of course, letting me touch The Book."
A photo attached to the tweet shows the author holding a book about organic gardening by Coronation Street actress Thelma Barlow.