Shark shows it 'jaws and teeth' while feeding off Lewis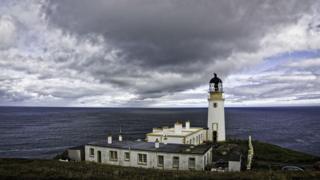 A shark has been seen trying to take what was believed to be a seabird from the surface of the sea off Lewis.
Tiumpan Head Watchers, a group that monitors for marine life, has reported one of its members seeing the shark's "head, jaws and teeth".
The scene was observed from Tiumpan Head on the east coast of the island.
The group has so far been unable to identify the shark. Large sharks found in British waters include blue shark and shortfin mako.
Tiumpan Head Watchers believe it to be the first recorded observation of a shark taking, or attempting to take, prey in its area of interest.
Steve Dodd, a trained and experienced local volunteer observer for the Whale and Dolphin Conservation Shorewatch programme, made the sighting.
He said he was watching seabirds when the shark's head appeared at the surface about 10 to 20ft from where the birds were.
Football sized
Mr Dodd said: "It appeared to have come straight up and then gone back down again. It did not breach, but I saw its head and its mouth was wide open."
He described the shark's head as being about the size of a football and in the brief glimpse was unable to determine whether it managed to grab any prey.
Mr Dodd, who has seen toothless, plankton-eating basking sharks but not other species, added: "It was something a bit different from the usual whale watching."
Conservation charity, the Shark Trust, lists 35 species of shark encountered in British and Irish waters, and also 19 other species that have been recorded elsewhere in the northeast Atlantic.
Basking sharks, the world's second largest fish and a familiar sight off Scotland's west coast and around its islands in summer, have no teeth and feed on plankton.