Inverness arts group chairman quits over giant see-saw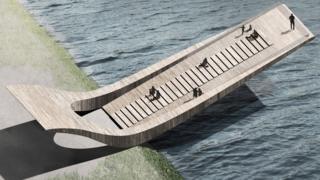 The chairman of Inverness City Arts working group has quit in a row about a giant see-saw-like art installation proposed for a bank of the River Ness.
Councillor Ken Gowans said he did not believe The Gathering Place to be a viable concept. About 200 people have opposed it in a public consultation.
The arts group continues to review the project, as well as other arts schemes proposed for the city.
Highland Council said a new chairperson would be appointed in due course.
The Gathering Place would be designed to tilt gently up and down.
A child-friendly water feature and a project called River Connections, which involves seating areas and poetry set into stones have also been proposed for locations next to the Ness in Inverness.
The public art would form part of the River Ness Flood Alleviation Scheme.
The working group includes senior councillors, including Thomas Prag, and local authority officers and involves Highlife Highland.