Make it so: Prosthetic leg adjusted for Star Trek fan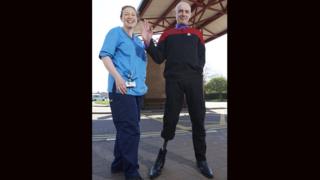 A sci-fi fan has had his prosthetic leg specially adjusted so he can wear his Star Trek uniform to a comic convention in London later this month.
Eddy McGurty, 41, from Merkinch in Inverness, needed the adjustments so he could wear heeled boots that are key to making the costume authentic.
The uniform is from the Star Trek: Next Generation series that starred Patrick Stewart as Capt Jean-Luc Picard.
NHS Highland staff at Inverness' Raigmore Hospital made the adjustments.
However, the work posed a challenge because the cowboy-style boots have higher heels that the footwear Mr McGurty normally wears.
He will join 130,000 other sci-fi and comic book fans at the comic con.
Mr McGurty said: "I didn't want to go without my cowboy boots.
"I've been to half a dozen comic cons and I've always worn my Next Generation Star Fleet uniform. I've even got a 'skinhead' like Patrick Stewart who plays Captain Picard in the series."
Picard was famous for his command: "Make it so".
Mr McGurty worked as a chef before he lost his right leg because of blocked arteries. He has had a prosthetic leg since 2014.
He said: "I've seen every episode of the Next Generation series.
"I watched the original Star Trek series growing up, but there was something about the Next Generation that I really liked. Commander Riker, Data, and Deanna Troi, I liked them all."
Elaine McCurrach, Raigmore's prosthetics service manager, said she was delighted that she and her team could help him achieve his goal.
She said: "Prosthetics is all about rehabilitation. We believe in helping people fulfil their potential and achieve the goals that are important to them.
"Getting to know patients and what is important to them is an integral part of this process. It helps us to set appropriate goals, and part of the rehabilitation process is helping them to find the best way to reach their goals."
She added: "The heels were quite high, and that was the challenge. But Eddy had identified what he wanted.
"So when setting up his new prosthetic leg, we had to keep in mind that the leg had to be correctly aligned to allow him to walk properly with a much higher heel than he had used previously.
"Something as seemingly simple as changing to a higher heel can have a detrimental impact on someone's ability to walk, so it's important that our patients communicate their wishes to allow us to set the prosthesis up correctly."