Laser shone at rescue helicopter from Inverness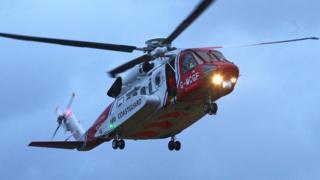 A laser was shone into the cockpit of a search and rescue helicopter over Inverness, police have said.
They believe a laser pen was aimed at the Coastguard helicopter from the Merkinch area of the city.
Police said the "extremely reckless" incident happened at 03:25 on Sunday when the aircraft was returning from a rescue on the Isle of Skye.
It could have had "dangerous consequences" for the pilot, crew and passengers, they added.
It follows a similar incident earlier this year when a laser was pointed in to a helicopter looking for a missing man in the River Ness.
Capt John MacIntyre who was piloting the helicopter during the rescue mission in February said it was "really very unpleasant" and a "huge distraction".
In a statement, Police Scotland urged people who owned laser pointers not to misuse them.
They added that misuse is a criminal offence "taken very seriously" by both the police and courts.