Judo's Stephanie Inglis opens an eye for first time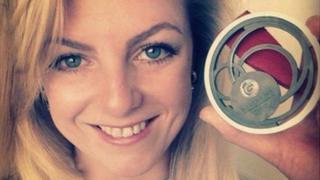 Commonwealth Games silver medallist Stephanie Inglis has opened an eye for the first time during her recovery from a serious accident in Vietnam.
The 27-year-old judo athlete from Inverness was placed in an induced coma after suffering head injuries in the motorbike taxi accident on 10 May.
Since being flown to a hospital in Thailand, doctors have begun the process of waking her from the coma.
On Sunday, she opened her left eye and followed a light shown into it.
Her family joked in a Facebook post that Ms Inglis opened her eye in shock at hearing her father, Robert, singing by her bedside.
In the same message, her family added that her temperature was falling and had almost returned to normal, an indication that she was fighting infections, including pneumonia.
Ms Inglis had been in Vietnam for four months teaching English to underprivileged children when the accident happened.
It is understood that a long skirt she was wearing, and which she had tied up for the bike journey, became unravelled and caught in the wheel of the motorbike, pulling her off the machine and on to the road.