Alternative site suggested for new Inverness prison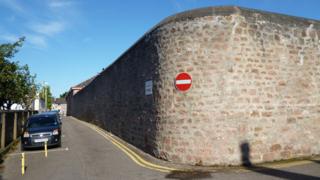 The Scottish Prison Service has suspended a consultation on the planned site for a new Inverness prison so it can assess an alternative location.
SPS has faced opposition from local residents to its plans to build its HMP Highland on farmland at Milton of Leys.
The service said it would make an assessment of the alternative option.
But it added that if this site was deemed to be unsuitable, it had "a commitment to progress" the Milton of Leys project.
SPS said the same landowner was involved in both sites.
'Pausing process'
HMP Highland would replace 112-year-old Inverness Prison, which is close to Inverness city centre and is one of the smallest and oldest jails in Scotland.
The prison service has proposed having a family help hub and community integration facility for prisoners constructed as part of the new "fit-for-purpose" prison, which would cost more than £60m to build.
The SPS said it was "pausing" the planning consultation process on the Milton of Leys site "to ascertain if a viable alternative option is available for the location of HMP Highland".
A spokeswoman said: "SPS will progress an assessment of an alternative option which has been brought forward by the Milton of Leys site owner and which had not previously been available as a potential prison site.
"However, the full assessment of this site is not yet commenced and should this option not subsequently prove viable, SPS have a commitment to progress the planning application on the Milton of Leys site.
"It is anticipated that the assessment of the potential alternative site can be concluded within the next four to six months and a further statement will be made in due course."