Singer Julie Fowlis to open Findhorn Bay Festival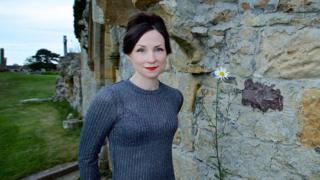 Gaelic singer Julie Fowlis will open this year's Findhorn Bay Festival.
She will be joined by Moray-based musician Calum Stewart and Nairn Gaelic Choir for a concert in St Laurence Church in Forres.
Fowlis, who grew up on North Uist, is known for songs on the soundtrack of Disney-Pixar film Brave.
Earlier this month, she sang An Eala Bhàn at the Battle of the Somme Centenary Commemoration service at the Thiepval Memorial in France.
The song, which translates as The White Swan, was composed by North Uist Gaelic poet Dòmhnall Ruadh Chorùna while he was fighting at the Somme in World War One.
Findhorn Bay Festival will run from 21-26 September at venues in and around Findhorn.
As well as music there will be events celebrating science and architecture, comedy and street performers.
Cameron Taylor, co-author of the book On the trail of the real Macbeth, will lead a tour of battle sites connected to the Scottish figure who inspired Shakespeare's 'Scottish Play'.
The festival will close with Scottish Opera's new production of The Elixir of Love.