Insect officially recorded for first time in Scotland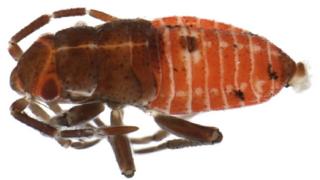 A species of insect has been recorded in Scotland for the first time.
The black and red female Psallus montanus was spotted by a volunteer who was collecting and recording beetles and bugs.
It was found on a birch tree at the RSPB's Insh Marshes nature reserve, near Kingussie, in the Highlands.
Psallus montanus is a species of plant bug, the females of which are black and red, while the males are a duller black and brown.
'Over the moon'
Bob Fleetwood has volunteered at the reserve for four years. He said: "Of all the bugs I came across that day, this one looked quite distinctive. As I'm still learning, I wasn't 100% certain what it was, so I contacted the national recorder for terrestrial bugs, Jim Flanagan, who positively identified it as a female Psallus montanus.
"When I got the confirmation back that this was the first official record of this bug in Scotland, of course I was over the moon. Every day is different when you're volunteering and this just goes to show that you don't have to be an expert to play a part in an exciting discovery like this."
Pete Moore, reserve warden at Insh Marshes, said volunteers are vital to the work of RSPB Scotland. He said the charity would not be able to do as much conservation work without support from volunteers.
He said: "We're delighted for Bob in making this exciting discovery and it's a brilliant record to add to the growing list of species we have here at Insh Marshes too."
Psallus montanus has only been recognised as a British species fairly recently and is similar to Psallus betuleti, which also occurs on birch.
Bugs are an order of insects generally characterised by having two pairs of wings and piercing mouthparts