Murderer from Inverness dies in Peterhead prison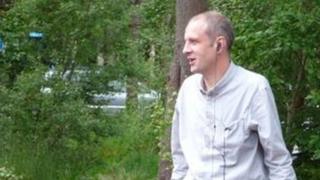 A murderer who had a life expectancy of only a few years when he was jailed has died in prison in Peterhead.
Robert Macgillivray, 53, of Inverness, was ordered in 2013 to serve at least 16 years in prison before he could seek parole for killing Mark Hunter, 37.
The High Court in Edinburgh was told at the time that Macgillivray's health problems meant he had a life expectancy of five years.
Mr Hunter was struck more than 80 times with a knife and stamped on.
Macgillivray denied murdering his former friend in Inverness in June 2012.
The Scottish Prison Service said a fatal accident inquiry may be held into Macgillivray's death at HMP Grampian last Tuesday.
Mr Hunter was murdered at Macgillivray's home.
He suffered so many cuts and bruises that a pathologist carrying out a post-mortem examination gave up counting, the High Court heard.
Medics said Mr Hunter had been killed by being stamped on, or possibly a jump with both feet together - smashing his ribs and preventing him from breathing.
Because of his health problems, which included emphysema, Macgillivray was alleged to have carried out the attack over a period of hours.