New winner in Carve Carrbridge chainsaw competition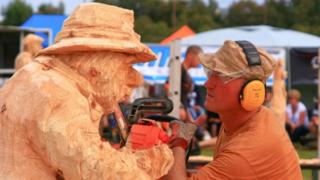 Polish chainsaw carver Wladek Ligocki has brought to an end Moffat's Pete Bowsher run of wins in the Carve Carrbridge competition.
Mr Bowsher had previously come first overall in the event, which doubles as the Scottish Open Chainsaw Carving Championships, three times in a row.
Mr Ligocki took first place carving a sculpture depicting a hunched old man.
Only chainsaws are permitted in the contest at Carrbridge. Carvers are banned from using other tools.
Mr Bowsher did win the People's Choice and was second place overall.
Third was Michael Tamoszus, from Germany, and the Best New Entrant was won by Jonathan Sherwood, from Harrogate in Yorkshire.
More than 3,000 people turned out to see the carvers, who included Alice Buttress, from Carrbridge, and Sue O' Sullivan, from the USA.